[ad_1]

CAT 2023
: Individuals interested in studying management at the prestigious Indian Institute of Management (IIMs) need to take the Common Admission Test (CAT). The Indian Institute of Management, IIM Lucknow will hold the CAT 2023 exam on November 26.
The IIMs select candidates for the interview stage based on their own criteria, which might not be the same for each institute.The process may involve Written Ability Test (WAT), Group Discussion (GD), and Personal Interviews (PI). Besides these, IIMs might use other factors for selection, including previous academic performance of the candidates, relevant work experience, gender and academic diversity, and other similar aspects.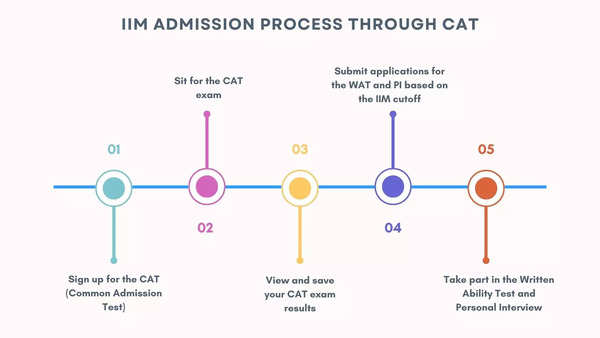 IIM Admission Process
IIM Admission Process Through CAT
Step 1. Sign up for the CAT (Common Admission Test).
Step 2. Sit for the CAT exam.
Step 3. View and save your CAT exam results.
Step 4. Submit applications for the Written Ability Test and Personal Interview based on the IIM cutoff.
Step 5. Take part in the Written Ability Test and Personal Interview.
Step 6. Get acceptance letters for admission.
Documents Required for IIM Admission
If someone gets selected for an interview at an IIM, they need to meet certain requirements to proceed.
Mark Sheets and Degree Certificate
The candidates who are selected need to bring their academic records and provide verified copies to prove they are eligible during the interview.
Reservation Category Requirements
If you get selected for an interview and you belong to certain categories like SC, ST, NC-OBC, EWS, or PwD, you'll need to provide the original documents proving your caste, class, or disability. Also, you should give a photocopy of these documents during the interview.
Candidates in the Final Year of Graduation
Students who are about to finish their bachelor's degree or its equivalent need to provide an authentic certificate from their university or institution's Principal/Registrar/Director. This certificate should confirm that the student has achieved at least 50% marks or its equivalent in their latest grades/marks. For candidates from the SC, ST, and PwD categories, 45% marks or equivalent are acceptable.
Note: You must submit your degree or equivalent mark sheet and certificate by December 31, 2024. If you fail to do this, your provisional admission will be canceled. If it's discovered later that the certificate you submitted is wrong, your provisional admission will also be canceled.
(function(f, b, e, v, n, t, s) if (f.fbq) return; n = f.fbq = function() n.callMethod ? n.callMethod(...arguments) : n.queue.push(arguments); ; if (!f._fbq) f._fbq = n; n.push = n; n.loaded = !0; n.version = '2.0'; n.queue = []; t = b.createElement(e); t.async = !0; t.defer = !0; t.src = v; s = b.getElementsByTagName(e)[0]; s.parentNode.insertBefore(t, s); )(f, b, e, 'https://connect.facebook.net/en_US/fbevents.js', n, t, s); fbq('init', '593671331875494'); fbq('track', 'PageView'); ;
function loadGtagEvents(isGoogleCampaignActive) if (!isGoogleCampaignActive) return;
var id = document.getElementById('toi-plus-google-campaign'); if (id) return;
(function(f, b, e, v, n, t, s) t = b.createElement(e); t.async = !0; t.defer = !0; t.src = v; t.id = 'toi-plus-google-campaign'; s = b.getElementsByTagName(e)[0]; s.parentNode.insertBefore(t, s); )(f, b, e, 'https://www.googletagmanager.com/gtag/js?id=AW-877820074', n, t, s); ;
function loadSurvicateJs(allowedSurvicateSections = []) isHomePageAllowed) (function(w) var s = document.createElement('script'); s.src="https://survey.survicate.com/workspaces/0be6ae9845d14a7c8ff08a7a00bd9b21/web_surveys.js"; s.async = true; var e = document.getElementsByTagName('script')[0]; e.parentNode.insertBefore(s, e); )(window);
window.TimesApps = window.TimesApps || ; var TimesApps = window.TimesApps; TimesApps.toiPlusEvents = function(config) var isConfigAvailable = "toiplus_site_settings" in f && "isFBCampaignActive" in f.toiplus_site_settings && "isGoogleCampaignActive" in f.toiplus_site_settings; var isPrimeUser = window.isPrime; if (isConfigAvailable && !isPrimeUser) loadGtagEvents(f.toiplus_site_settings.isGoogleCampaignActive); loadFBEvents(f.toiplus_site_settings.isFBCampaignActive); loadSurvicateJs(f.toiplus_site_settings.allowedSurvicateSections); else var JarvisUrl="https://jarvis.indiatimes.com/v1/feeds/toi_plus/site_settings/643526e21443833f0c454615?db_env=published"; window.getFromClient(JarvisUrl, function(config) if (config) loadGtagEvents(config?.isGoogleCampaignActive); loadFBEvents(config?.isFBCampaignActive); loadSurvicateJs(config?.allowedSurvicateSections);
)
; })( window, document, 'script', );

[ad_2]

Source link